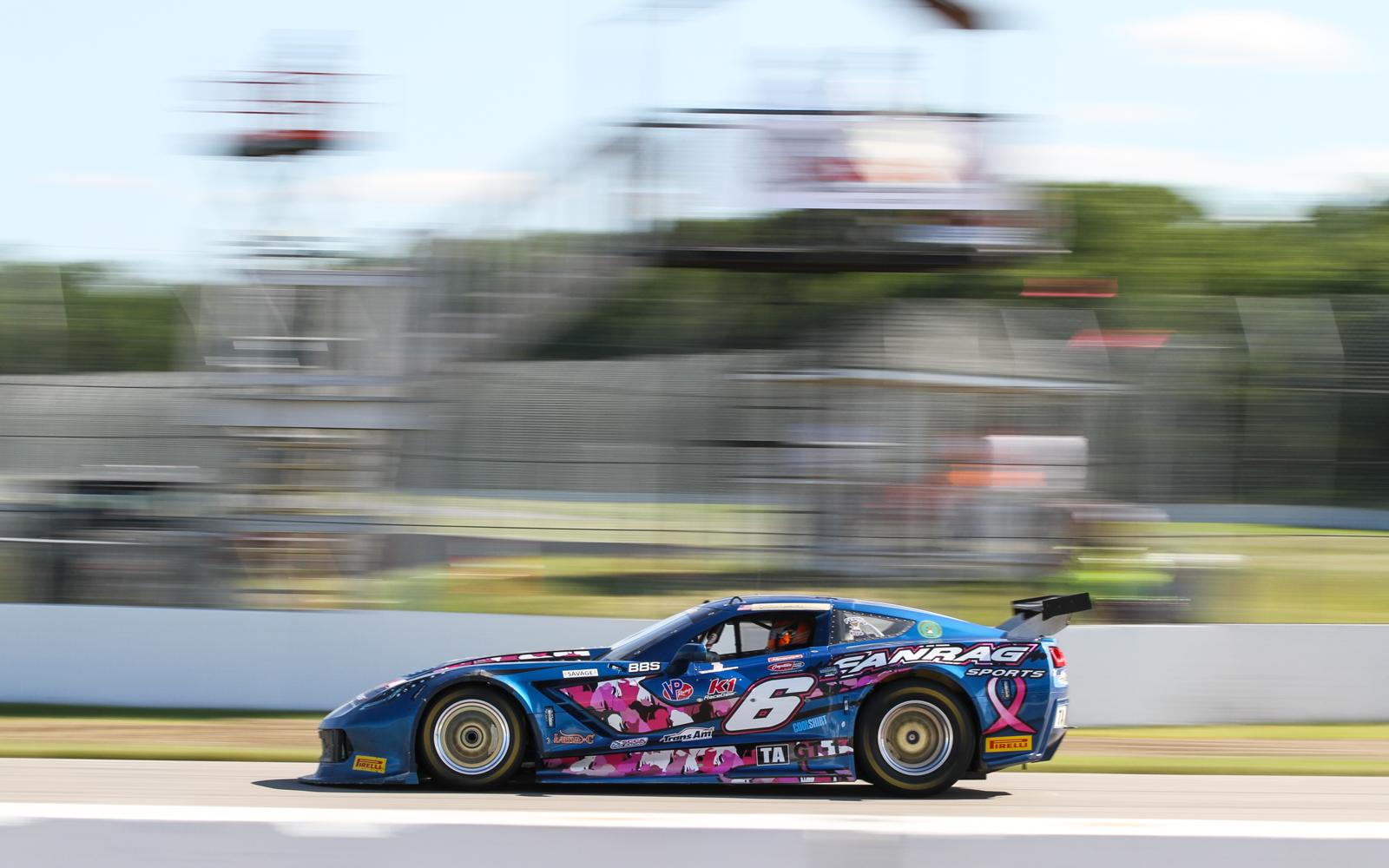 Cameron Lawrence secured his first career Trans Am Series presented by Pirelli TA class victory in the Ryan Companies Independence Day Classic today at Brainerd International Raceway (BIR).  The victory completed a weekend that saw Lawrence compete in three separate races:  the Continental Tire 120 at Watkins Glen, the TA2 class Ryan Companies Muscle Car Challenge, where he finished fifth, and the Ryan Companies Independence Day Classic, ending his weekend atop the podium.
Lawrence, a two-time TA2 champion and winner of 20 Trans Am races, captured the win in only his second TA class appearance, his first appearance having been cut short due to mechanical failure at Indianapolis Motor Speedway just as the green flag flew. Today, with poor luck a thing of the past, Lawrence brought home the No. 6 Derhaag Motorsports Chevrolet Corvette first overall in the 100-mile, 40-lap TA, TA3 and TA4 multi-class field.
"It was a weekend of threes, but this one was definitely a first for me in the TA class," said Lawrence. "I'm definitely worn out and exhausted and looking forward to getting home and getting some sleep but what more can you ask for.  Just getting to run three races in a weekend is rare and a great opportunity; but we've had some bad luck this year, as has the Derhaag team, and this is the best possible way to end today.  I'm so glad we could put a win together for Derhaag Motorsports."
Lawrence, who missed qualifying due to his obligations at Watkins Glen, started the day in eighth position in the nine-car field, consistently working his way up the field, securing fourth position on the fifth lap before the race's only full-course caution came out on lap nine with the No. 00 of James Pesek stuck off course in turn 12.
After green racing resumed on lap 12, Lawrence would move into third over Amy Ruman, in the No. 23 McNichols Company Chevrolet, on lap 16, then second over polesitter Vinnie Allegretta, in the No. 41 TA Sights Sounds Chevrolet Corvette, commencing pursuit of the No. 98 Buoniconti Fund Ford Mustang of Ernie Francis, Jr.
Francis held a comfortable lead but would suffer a stuck throttle with only three laps remaining, causing the No. 98 to spin.  Francis, the winner of four straight TA class competitions, would fall back to third, leaving Cameron Lawrence to take the lead—completing an improbable victory for a driver for whom the start of the race marked his first time in the car all weekend.
"It was really tough," said Cameron. "Luckily enough I drove the same chassis in the June Sprints in 2014 when we were fortunate enough to win both races.  I had plenty of laps in the TA2 race and that helped me get my markers and references down and get familiar with the track again.   It's been a while— I didn't even race here last year, so it's been two years since I've even seen this track. So it was difficult, but starting in the back, you learn a lot from everybody.  There are plenty of good drivers in TA; so watching Amy, Vinnie and Ernie helped me.  It was patient day for us; it doesn't always work out that way with the midrace caution.  There were guys racing hard, making a few mistakes and some bad luck; it all fell our way today.  You don't get these all that often in racing; you have to appreciate them when you do."
For his efforts working his way up through the TA class field Cameron Lawrence was also awarded the COOLSHIRT Systems Cool Move of the Race.
Pole sitter Vinnie Allegretta would finish second, while Francis would recover to secure a third place finish— easily retaining his lead atop the TA class championship with 166 points to Allegretta's 135.  Francis would also set the fast lap of the race, a 1:28.775 lap around the 2.5-mile competition course.
BIR track owner Jed Copham, in the No. 44 BC Race Cars/ Tesar Engines Chevrolet Corvette, would finish fourth, his career best finish in his fourth Trans Am start, all of which have been at BIR.  Amy Ruman, the two-time defending TA class champion, would finish fifth to retain third in the points with 112.