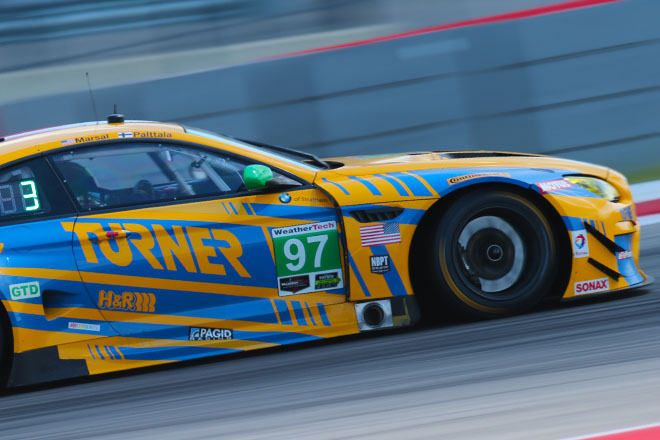 Turner Motorsport announced expanded line-ups for its the No. 96 IHG Rewards Club M6 GT3 and No. 97 Alvarez & Marsal M6 GT3 for this weekend's Petit Le Mans. Saturday's 10-hour race will mark the final round of the North American Patron Endurance Championship as well as the final race of the IMSA WeatherTech SportsCar Championship, deciding the championship titles in both the prototype and GT classes.
Michael Marsal and Markus Palttala will be joined by Cameron Lawrence in the No. 97 Alvarez & Marsal M6 GT3, marking Lawrence's first appearance in a blue and yellow BMW.
Bret Curtis and Jens Klingmann will be joined by Ashley Freiberg behind the wheel of the IHG Rewards Club M6 GT3 for her third race in a Turner BMW, having driven with Klingmann and Curtis in both the Rolex 24 Hours At Daytona and the Sebring 12 Hours. The trio finished on the podium with a strong second place finish at Sebring back in March.
"After being out of the seat all summer, I am tremendously excited to be back with Turner Motorsport in the IHG Rewards Club BMW!" Freiberg said. "After our second place together at Sebring, it's been so exciting to see the continued success of the #96 over the summer so I feel optimistic that we will have a strong fight for that top step at Petit!"
The No. 96 enters the final race just outside the top five in the extremely tight GTD points standings.
"With such great result at Circuit of The Americas last weekend, we are very excited and motivated for the final race and endurance event of the season," Curtis said. "Jens and I have had our ups and downs this season but with two wins on the books, we are confident that we will be able to conclude our season on a strong result at Road America this weekend."
Lawrence joins Turner Motorsport with a strong Patron North American Endurance Championship resume. In 2015, Lawrence recorded two wins, three podiums and one top-five finish racing in the GTD class at Daytona, Sebring, Watkins Glen and Petit Le Mans, ultimately winning the PNAEC team and driver championship.
"I could not be happier to join Turner Motorsport for Petit Le Mans this year," Lawrence said. "It will be my first appearance in a GTD car for 2016 so I'm really looking forward to joining Michael and Markus behind the wheel of the Turner BMW. The BMW M6 GT3 is a very competitive car so we are optimistic for a strong race to end the Weather Championship season a positive note for Turner Motorsport and BMW."
With the driver line-up set, the Turner team will begin practice on Thursday in preparation for Petit Le Mans on Saturday.
"I can't believe we are already preparing and gearing up for the final race of the 2016 season," Will Turner said. "We have made so much progress with the new BMW M6 GT3s so I am excited to run the final endurance race of the season, especially with some fantastic driver line ups."