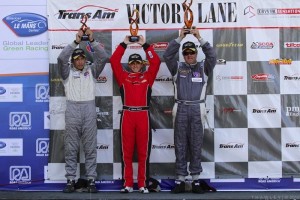 By Kirsten Harrington
When most little boys were learning to ride bikes  without  training wheels, Windermere's Cameron Lawrence was speeding around a racetrack. The now 22-year-old professional race car driver began his racing career at age 7 by competing in Quarter Midget races. The go­ kart·like small·scale cars taught Cameron fundamental driving skills and hooked him on the thrill of competition.
This past November, Cameron won the Trans Am TA2 Championship at the Daytona International Speedway for the second year in a row. In his electric blue Dodge Challenger, Cameron defeated a strong field of contenders, including Adam Andretti,nephew of legendary Indy 500 winner Mario Andretti Cameron led for the entire 29.1ap,103-mile race, fueled by the homefield advantage and cheered on by his biggest fans for the last race of the season.
By hitting the track every weekend with his dad, James, Cameron worked his way up through the ranks,winning along the way.By age 12, he was the Florida state champion in the Senior Honda division. Unfortunately, the local racetrack closed shortly thereafter, caus­ing Cameron to set aside his racing ambi­tions for the time being and become active in Windermere Little League.
Cameron's hiatus  from racing  didn't dampen his enthusiasm or his winning streak. He resumed racing after high school, once again with his dad at his side. The father-son duo attended driving  school together and shared driving  time in their  Oldsmobile Achieve. "Definitely having all my friends and family here helped on race day and calmed my nerves down a little bit," he said. He's quick to share the credit for his success.
"It's remarkable how close this cham­pionship ended up being; we entered the weekend only a point ahead.We just took care of business all weekend long; the team worked  so incredibly hard to give me the perfect car for the race – everyone deserves this, Miller Racnig and Dodge," Cameron said in a post·race interview.