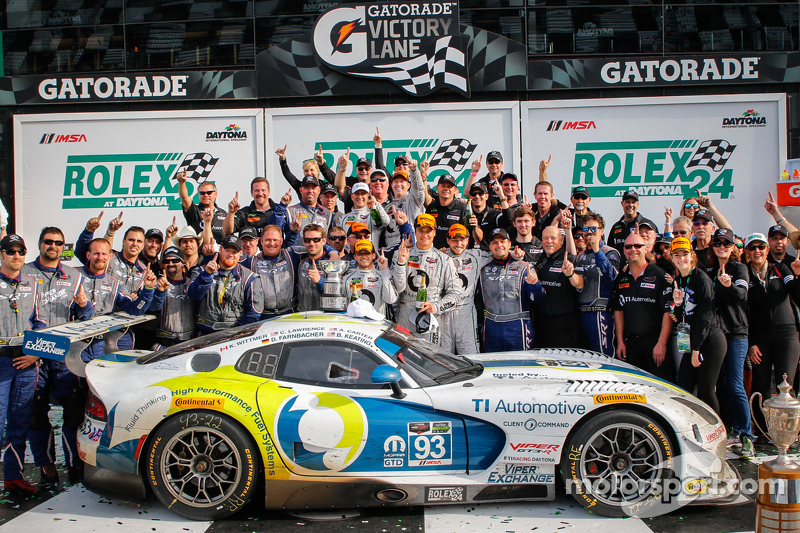 By: Motorsport.com, Editorial team
The GTD class boiled down to a straight fight between the Riley Motorsports Dodge Viper SRT and Alex Job Racing Porsche 911 GT, and it was the Viper squad which came out on top despite starting from the rear of the field.
The Riley-run line-up of Kuno Wittmer, Dominik Farnbacher (both of whom lost their GTLM Viper drives despite winning the title last year), Ben Keating, Al Carter and Cameron Lawrence prevailed. They battled hard with the Job-run Porsche of V8 Supercars star Shane Van Gisbergen, Cooper MacNeil, Leh Keen and Andrew Davis.
V8 Supercars star Van Gisbergen took the class lead in the Job Porsche at 10am on Sunday morning, but Kuno Wittmer grabbed it back with just over three hours to go, the duo lapping within fractions of a second of each other.
Wittmer handed over to Farnbacher for the final stint, who brought it home well clear, as van Gisbergen chased him to the finish with more than just the usual technical issues to deal with in the cockpit: "Leh's been sick in there, so it stinks of spew a bit!"
A complete team effort
Keating said after the race: "It was great teamwork, this win is for the Viper nation, bringing it back to Daytona!"
"It was a great team success, I'm so proud of them … We were very sad when the program was pulled and happy we could give the SRT a win," said Farnbacher, while Lawrence added: "This team is just amazing, we did our job perfectly and it's just unreal."
The second Riley Viper of Jeroen and Sebastiaan Bleekemolen, Marc Goossens, Ben Keating and Al Carter had been leading the class until hitting trouble and stopping out on track with seven hours remaining.