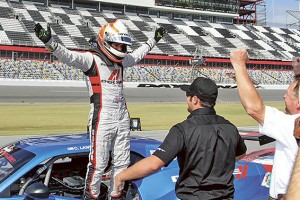 Cameron Lawrence, a 22-year-old race car driver from Windermere, won the final race of the SCCA Trans Am Series season Nov. 15 at nearby Daytona International Speedway.
With the victory at the Round 11 race, Lawrence locked up his second consecutive Drivers Championship on the TA2 circuit.
"It's awesome to be back home and have a little home-field advantage for the last race of the season and the championship," Lawrence said. "Definitely having all my friends and family here helped on race day and calmed my nerves down a little bit. 
"The crew is awesome and worked so hard since we made the switch to the Dodge Challenger SRTs," he said. "We had a few setbacks along the way, but everyone worked hard until we won the championship. It's been a great year!"
Lawrence, who wheels a CTEK/NorthStar Battery Dodge Challenger SRT, held a narrow advantage in the points standings heading into the race and led from the pole position and for the entire 29-lap, 103-mile race. His pole time of 1:51.319 now stands as a new track record, and it broke Lawrence's own qualifying record set last year. It also added one point to his championship points margin.
The victory gave Dodge its first-ever Driver's Championship in Trans Am and with its Dodge Challenger SRT car.
With the win, Lawrence joins some elite company in terms of drivers who have won back-to-back championships on the Trans Am Series — including names like Peter Gregg, Wally Dallenbach Jr., Mark Donohuse, Tony Ave, Doug Peterson and Tommy Kendall, Lawrence's teammate.
Lawrence won seven races in total this year and accumulated 310 points to edge the runner-up by 21 points. Fifty total cars entered the championship. The win even got the young driver some publicity in AutoWeek.
The Windermere native has been racing since he was 7 years old and hopes to build on his success in 2015.
http://www.wotimes.com/2014/12/windermere-driver-locks-back-back-championships/